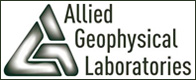 AGL Calendar
Physical Modeling Laboratory
Ultrasonic Systems
At the heart of AGL are the 3 Ultrasonic Research Systems. The configuration of the system are as follows:
Land System: This is used to simulate land acquisition. It can simultaneously support 2 sources and 4 receivers.
Marine System: This is used to simulate marine acquisition. It can simultaneously support 8 sources and 16 receivers.
Backup System: This system is used as backup. It can simultaneously support 1 Source and 4 receivers.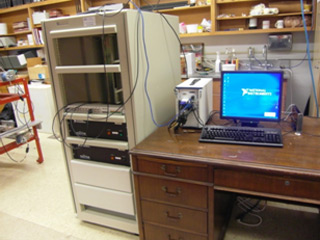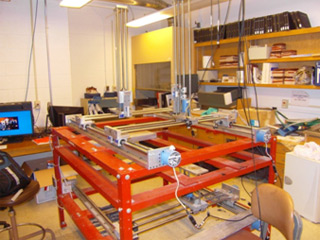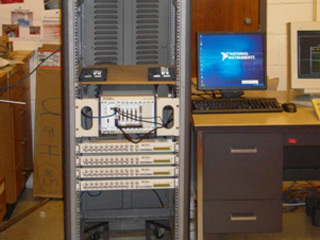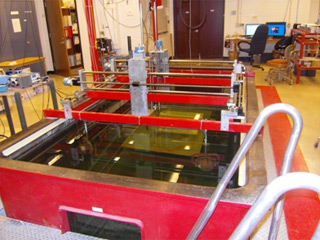 Transducers
The Laboratory is also equipped with a variety of transducers to suit different needs. Pictured below are:
Spherical Transducers
Pin Transducers
3C Transducers
Contact Transducers ( various P and S wave)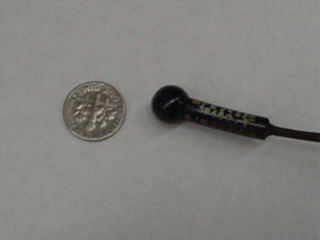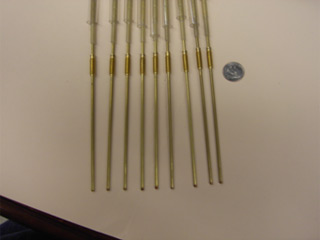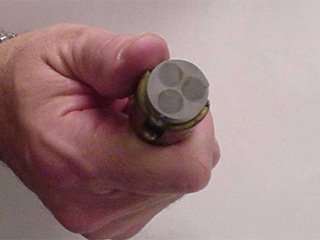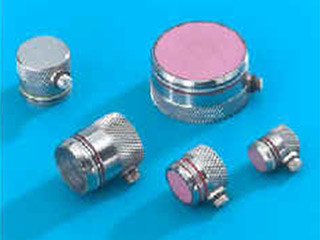 Models
In addition we have various modeling facilities for constructing models in the lab. The lab also offers the latest computational and software infrastructure to facilitate research and learning. Shown below are some models.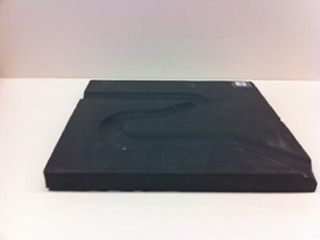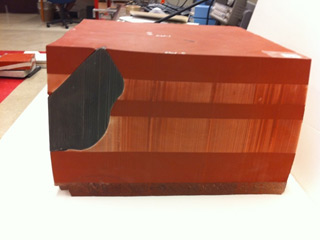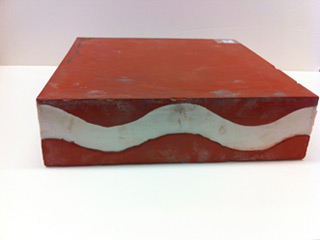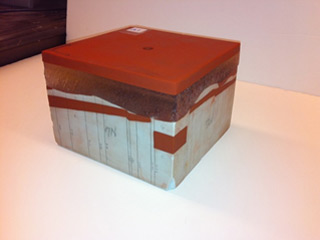 Field Systems
At AGL we operate a variety of geophysical acquisition systems aimed to provide prospected Ms and Phd students with better understanding of imaging techniques of subsurface, measurements and field surveying systems. These systems are being updated and tested on regular bases to provide accurate and reliable seismic outputs to be recorded and utilized for hands on research and land surveys throughout various location in US. The geophysical methods that we employ include: Positional line surveying using GPS technologies; multicomponent seismic refraction and reflection; 1C & 3C land streamers; ground-penetrating radar (GPR); Gravity and magnetic gear; Vertical and horizontal geophones; Geometrics Geode system (24-channel boxes), Geometrics StrataVisorNZ 64-channel recorder; Well-log measurements (using gamma-ray, sonic, resistivity, temperature tools) and vertical seismic profiles; Various Seismic sources - Minvibe (seismic vibrator truck), hammers as well as a truck mounted elastic thumper / accelerated weight drop source - "PEG" (Propelled Energy Generator) and more.
La Marque Testing Observatory
AGL has access to the new La Marque Testing Observatory at the UH Coastal Center, La Marque, Texas. Here we have classroom facility, test wells and infrastructure to conduct seismic, VSP and well logging classes. You can find more information about the facility over here: http://www.uhcc.uh.edu/index.htm .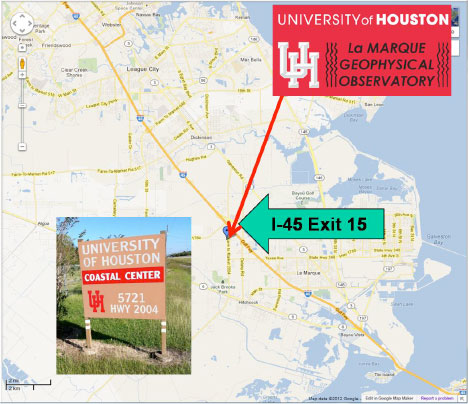 Selected gear pix:
Power Sources
"Minivib" - High fidelity acoustic projector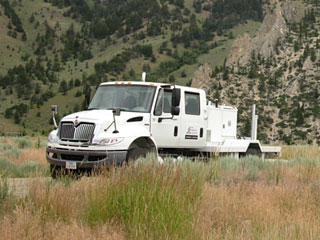 Truck mounted accelerated weight drop source elastic thumper - propelled Energy Generator (PEG), 10-lb sledgehammer and aluminum plate.
Single & multicomponent seismic refraction and reflection
Land streamers (from Geostuff), a 20-station 1-C & 3-C land streamers cables respectively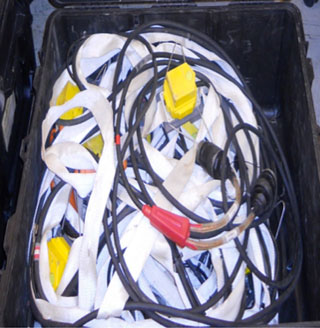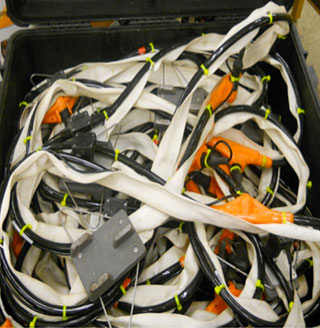 Ground-penetrating radar (GPR)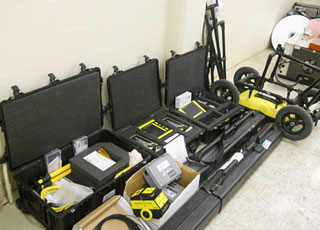 Gravity and magnetic surveys. | Blast mate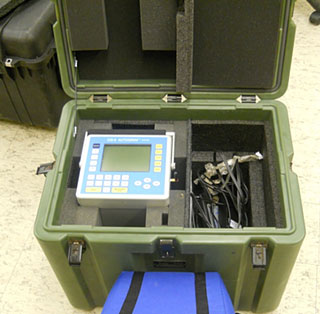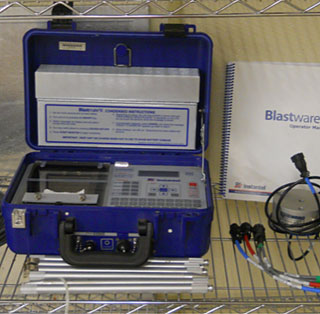 Well-log measurements
Piezoelectric transmitters and receivers, gamma-ray, sonic, resistivity, temperature tools | VSP Source gear & cable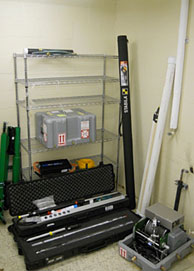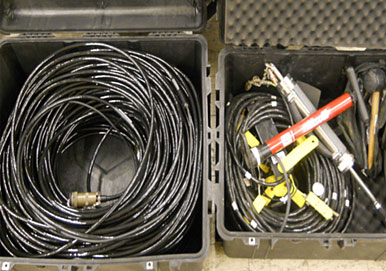 Geometrics StrataVisorNZ 64-channel recorder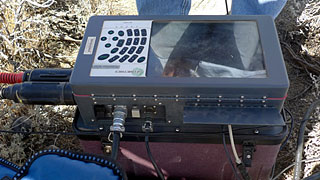 Geometrics software on a ruggedized field laptop computer.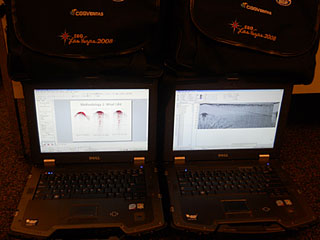 Geometrics Geode system with 24-channel boxes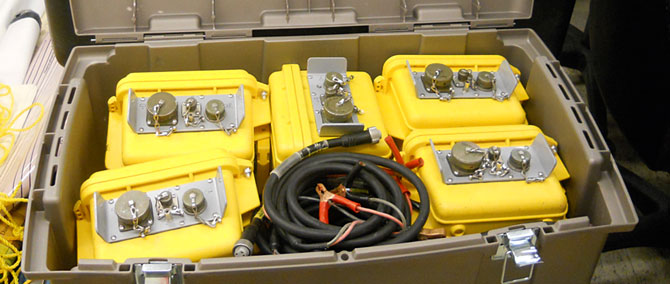 Geode cables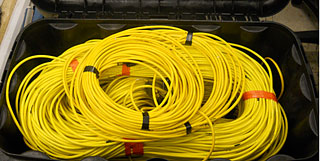 Geophones - 1C units & carry frames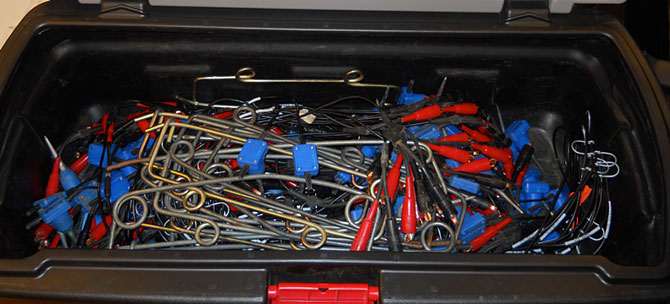 Vertical Geophones (1C units & cary frames) | Geophone T.O. cables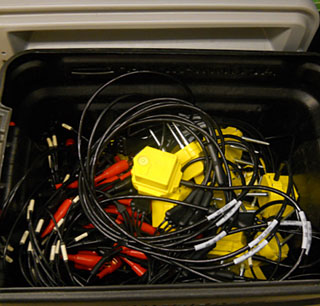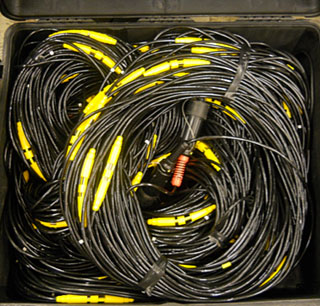 Positional line surveying using GPS technologies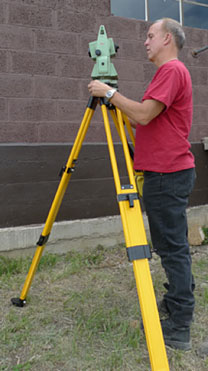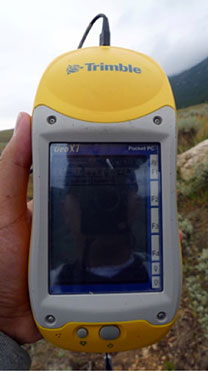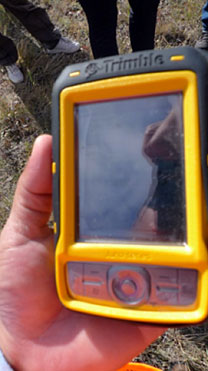 Computer and Software Infrastructure
Introduction
IT resources at the Earth & Atmospheric Sciences department are comprised of:
Software and hardware, including printers, plotters, scanners, and tape drives
High Performance Computing (HPC) and application servers (Beowulf clusters, SUN/PC servers, and Application software, web/ftp server)
Data storage repositories
Visualization systems
IT staff
Computer Labs
The PC/SUN computer and multimedia lab is housed in Room 230 & 232, SR-1. Full time graduate students and staff are provided keys (23-B4) to access this lab, but part time students, undergraduate students, temporary staff etc can access this lab with a key-code.
PC workstations ? Software & Hardware


The PCs are equipped with a variety of software, available by logging into any of the workstations. Below is a list of some of the lab's software:

ArcGIS-9_1 (GIS software)
ArcInfo Work Station 9 (GIS Software)
Basinmod (Geological Modeling Software)
Canvas-10 (Illustration Software)
Coreldraw-11 (Illustration Software)
DeltaGraph (Graphing)
Endnote-5 (Bibliography software)
Envi-4.1 (Remote Sensing)
Adobe Illustrator-CS2 (Illustration Software)
Kaleidagraph-3_5 (Graphing)
Neuralog (Well Log Data analysis software)
Microsoft Office (Productivity software)
Adobe Photoshop (Image Editing)
SMT_(Seismic & Geological Interpretation software)
Thinanywhere (Remote access software)
Secure Shell (Secure access software to the UNIX workstations)

The PCs are kept up-to-date with the applicable software patches. Please e-mail Jay Krishnan at krishnan@central.uh.edu for the latest list of available software.

SUN Workstations ? Software & Hardware


The following software is available on the SUN systems: (Not meant to be comprehensive)

Acrobat4
EarthWave-1.2_Solaris (Seismic Modeling and Imaging Software)
GDCMOD
GMT (GMT is an open source collection of ∼60 tools for manipulating geographic and Cartesian data sets)
Matlab5.3
SU (Seismic UNIX, From Colorado school of Mines)
Seplib6.1.1 (SepLib Library, From Stanford)
Solid
Geoframe 4.0.4
Focus 5.1 and 5.2
VoxelGeo
Geodepth
StartiMagic
GmSYS
Larson (Plotin Software)
GCC and SUN'S C and FORTRAN Compilers
Hampson and Russell Software
PC/SUN Lab in room 230
Please note: Detailed plotting / printing / scanning help is available at the Geo Support Website.
Rooms 230 and 232 are connected, allowing access to one from the other. Room 230 consists of several PCs, some SUN workstations, and variety of plotting/scanning/printing tools. For black and white printing there is a Xerox N2125 printer, while for plotting the lab contains an HP 1055CM 36" wide plotter. All black and white printouts are monitored; each student is give a 25$ credit at the beginning of each semester, and printing deducts 4 cents per page. A student who exceeds their printing credit will have to wait for the beginning of the next semester to have their account refreshed (no exceptions, unless you are submitting a thesis copy and need large volume printing).
Additionally, this room also contains several scanners and one system at the far end for doing OCR (Optical Scanning Recognition: image to text conversion). Simple instructions on using these scanners are posted on the scanners themselves. You can also use the department copier (on the third floor) to scan images which will not get deducted from your account (instructions are posted above the copier). The room also contains several tape drives for doing data dumps and backups of large volume of data(DLT, Exabyte and DDS tape drives).
Multimedia Room, Room 232
There are several other Earth & Atmospheric Sciences Computer Labs which are not directly managed by Earth & Atmospheric Sciences IT but are available for use by the staff/students with appropriate permission. Some of these labs are:
Remote Sensing Lab
High Performance Computing(HPC) Servers
The Earth & Atmospheric Sciences department has at its disposal a large amount of computing power:
Four Beowulf Clusters
A combined total of close to 300 nodes and 300 GB of memory, Xeon 1.8 ? 3 GHZ processors.
Specs of each node:


Supermicro Motherboards
Xeon 1.8 ? 2.8 GHz processors
Opteron 248 Processors
2 GB ECC memory
Broadcom or Intel Gigabit Controller
3com/Trendnet/SMC Gigabit Switches

About 40 TeraBytes of high speed SCSI storage systems
Several mid-range V880 sun servers: 8-12 processors, ultrasparc III, 750 ? 1200 MHZ, more than 16 GB of memory
Access to the campus HPCC
Access to the Texas Learning and Computation Center(TLC2)
On all Beowulf clusters, access the '/usr/public' directory on the master node to get detailed information about the hardware, software, and benchmarks for that cluster.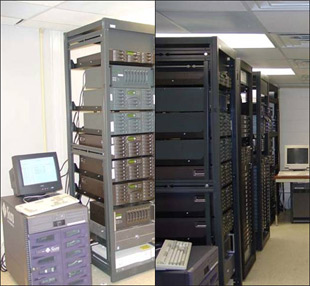 Additionally, there are several other IT resources available, such as Analog to Digital Conversion systems, classrooms equipped with projectors, as well as support from VNET.
AGL Proprietary Software
In addition to commercial software, students and faculty within CAGE and the Department of Earth & Atmospheric Sciences have access to the following proprietary AGL-developed products. We provide source code and/or executable versions along with associated man pages of the following products to current sponsors of our AGL consortium. All data access, parameter definition, and display are made using the 'SEP' (Stanford Exploration Project) constructs.
| | | | |
| --- | --- | --- | --- |
| Product | Application | Author(s) | Platform |
| spice | 2D/3D Singularity Attribute | Christopher L. Liner | Seismic Un*x |
| suaglpickr | First Arrival Picking | Heather Yao, Christopher L. Liner, Bernhard G. Bodmann | Seismic Un*x |
| eps2d | 2-D Pseudospectral Elastic Modeling | Kwangjin Yoon and Kurt J. Marfurt | Linux and Unix under MPI |
| geom_attr | 3-D Geometric Attributes | Kurt J. Marfurt | Linux and Unix under MPI |
| reflector_shape | 3-D Curvature and Shape Attributes | Kurt J. Marfurt and Saleh al Dossary | Linux and Unix under MPI |
| csa | Composite Seismic Attribute Display | Michael Lin and Kurt J. Marfurt | Linux and Unix |
| spec_mp | Spectral Decomposition Using Matched Pursuit Ricker Wavelets | Jianlei Liu and Kurt J. Marfurt | Linux and Unix |
| fd2d_sc | 2-D Finite Difference Scalar Modeling | Kurt J. Marfurt | Linux and Unix under MPI |
| mc_vsp | Antialias Multicomponent VSP Separation | Katarina Jovanovic and Kurt J. Marfurt | Linux and Unix |
| tmig3d | 3-D Kirchhoff Prestack Time Migration | Kurt J. Marfurt and Cory Hoelting | Linux and Unix under MPI |
| interazim_coh | Interazimuth Coherence | Saleh al Dossary and Kurt J. Marfurt | Linux and Unix |
Milton B. Dobrin Reading Room
The Milton B. Dobrin Geophysical Reading Room incorporates a collection of over 5,000 research materials in addition to the archival SEG Reading Room. The Society of Exploration of Geophysicists also donated their reading room furniture to the new facility. The Dobrin Reading Room subscribes to a variety of research journals, including those published by the SEG, EAEG, ASEG, and the AAPG. Room holdingsare listed on an electronic catalog, and the facility has access to a CD-ROM database from GeoRef and SPE. The Reading Room is open to the public.