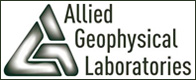 Disclaimer: These materials are provided for personal use and for research purposes only. These works as well as any copies derived from them may not be resold or marketed in any manner without written permission from the authors. The authors retain complete copyright privileges to these documents.
Quarterly Department of Energy Reports
The following reports are related to projects listed in the Projects section. Some of the most recent reports are available in a smaller filesize for slower connections.
Training toward Advanced 3D Seismic Methods for CO2 Monitoring, Verification, and Accounting

Application of Cutting-Edge 3-D Seismic Attribute Technology to the Assessment of Geological Reservoirs for CO2 Sequestration